LAN protocol is very important for me. Please add my account to whitelist: ID 4187775072 China
Thank you!
My account id is 6242943193. China mainland
Thank you
My ID is 1609559007 with Europe server.
Thanks
Bonjour, j'ai besoin du contrôle local SVP
Chine continentale - id: 1855136743.
Merci par avance

Hi @chyhaiyuan, could you please help to add me to the whitelist when you are free?
My ID is 155219061(China mainland), thanks very much!
Hi @chyhaiyuan lan feature is TOO MUCH CRITICAL for me. My mi id 82146570. Please give me firmware with lan control.
Hi, please add me to the whitelist for the new firmware for the bedside lamp2!
My id: 1735970638
Thanks!
I think that they've stopped whitelisting us.
hopefully that's because they're rolling back
Please @chyhaiyuan can u add me to white list
My id 1688339493 (mainland )
Thanks!!!
Hi, I need lan control. Please add
Id:1747313637(europa)
Thanks
@chyhaiyuan Please add me to the whitelist
ID: 1799652828 (China mainland)
I have other lamps but please help me, I only bought this because of the LAN control.
I cannot believe you guys were forced to take out the lan control.
Does this mean things like the smart vacuum cleaners are also going to lose it? God Damn I just might have to rethink buying anything from xiaomi like this.
Anyway can I also be added to the whitelist please? Lan control is crucial for my smart home.
And how do I turn off automatic updates afterwards??
My Id is:
China server - 1580895283
@chyhaiyuan Mi ID: 6324172737 Europa
Grazie per i tuoi sforzi puoi aggiungermi in whitlist per attivare il lan control essenziale per far funzionare home assistant.
Ho modificato il configuration.yaml in HA aggiunto transition: 1000 e funziona in homekit, ma ho bisogno della funzione LAN control
Grazie Ivan
@chyhaiyuan Hi! Could you please add ID 6433213902 to the whitelist?
Hi @chyhaiyuan, could you add me to whitelist please ?
ID : 1858902631 (Europe).
Thank you!
I also need LAN Control for my Beside Lamp 2
My ID is: 6249567365 (Europe)
LAN control request:
ID: 1602245032 (Mainland China)
Thank you!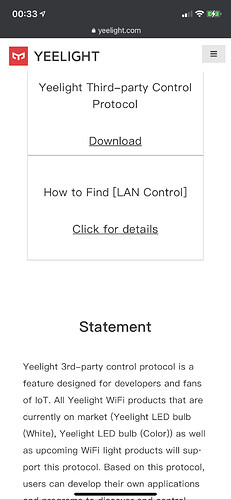 So what happened to this statement?
https://www.yeelight.com/en_US/developer
Thank you! Please add me to the whitelist. ID 1633576617 (North and South America [Oregon])