【SWIPE DOWN FOR THE FREE BONUS BELOW】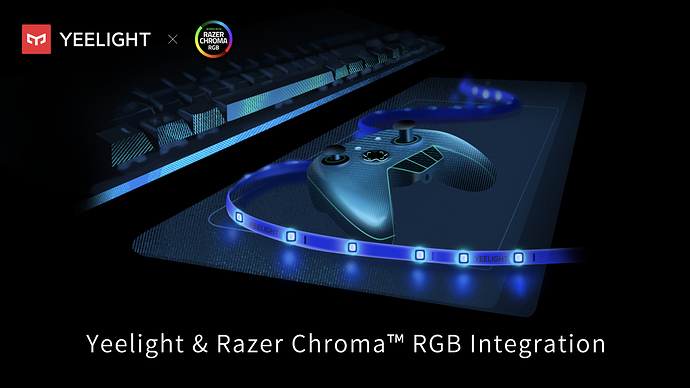 Yeelight announced their partnership with Razer, the world's leading lifestyle brand for gamers, during RazerCon 2020, indicating its ambition of further bringing Yeelight smart lighting to the gaming community. Yeelight has integrated its latest color-changing products with Razer Chroma™ RGB and enabled seamless integration between Yeelight and Chroma-enabled devices and games.
Gamers can now easily connect Yeelight color-changing products with Razer Chroma RGB enabled devices and enjoy visually reflected lighting effects as they play. Yeelight aims to extend the gaming lighting beyond the desktop and into the entire room, which means Yeelight color lights will light up together with all other Chroma-enabled devices during gameplay such as battle scenes. These features extend to a wide selection of popular games, including OverwatchTM, FortniteTM, Apex legendsTM and many more
From October 10th 2020 onwards, the latest Yeelight color products, including the Yeelight Smart LED Bulb 1S(Color) and the Yeelight LED Lightstrip 1S, will support Razer Chroma™ RGB integration when users update the product firmware to the latest version in the Yeelight App. More Chroma-compatible color products from Yeelight will be introduced later this year.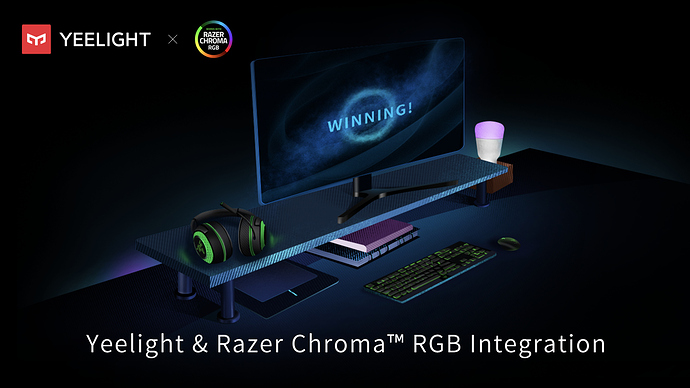 To bring gaming to the next level, all gamers need to do is enable the LAN control of the products in Yeelight App, and the lights will automatically be connected to Razer Chroma via the Yeelight Chroma Connector plug-in. This is free to download on both Razer and Yeelight website. For more details on the Razer Chroma™ integration, please refer to the dedicated page here.
"Gaming and light have always been a perfect match. We're excited to have this partnership with Razer for the Chroma integration," according to Coaster Li, VP and Head of Yeelight Overseas Division. "Many of our users love to decorate the gaming desks with Yeelight. Now we're happy to bring this to the next level with a more immersive experience!"
"We're really excited to have Yeelight join the Razer Chroma Connected device program," says Kushal Tandon, Director of Software Marketing at Razer. "Gamers now have the freedom to choose between various Yeelight LED bulbs and light strips to integrate with Razer Chroma RGB for a truly colorful gaming experience."
---
P.S. : Some Extra Bonus


Do you want to get your hands on the latest Razer Chroma integration? The themed giveaway is on now to give away the latest Yeelight strips and color bulbs package, prize valued at $110. Click the link below and try your luck now!



---
P.S.: Get Started Now with Razer Croma Integration in Three Steps



Step 1: Connect the devices with Yeelight App
Step 2: Download and log in Razer Synapse3
Step 3: Download and open Yeelight Chroma Connector
If somehow you still cannot detect the device on the Chroma Connector, please make sure you have installed the latest Razer Chroma patch
Click the link below for a complete video instruction



Learn how to Connect Yeelight Color Lights with Razer Chroma™ RGB