Dear Yeelight Users,
On the first day of Google I/O 2019, Google announced the Local Home SDK would be available for developers to improve the experience of using Google Home. This new local technology will deliver commands faster and more reliable to your smart home devices. As one of the first vendors to access Local Home SDK in the globe, now Yeelight is ready to show " New ".
What Can Google Local Home SDK Do?
Through Local Home SDK, the command will be processed and delivered from Google Home to Yeelight devices over Wi-Fi on a local area network (LAN), instead of first processed in the cloud. Locally control speeds up the action execution. After Google Home "understands" your command, ideally the latency of action execution will be reduced below 0.3 second! No need to wait for long to "turn on the light".
In addition, local control doesn't mean the "cloud to cloud" link is invalid. While the local control is failed or you need to control your devices remotely, the control link will transfer to the cloud. Therefore, this additional local control link will improve the reliability of your Yeelight smart light control.
For more details, you could also refer to the official manual of Google at https://developers.google.com/assistant/smarthome/concepts/local
How to Experience Google Local Home SDK with Yeelight products?
It is easy to experience how fast and reliable of local control with your Yeelight devices.
Step 1: Open the "LAN control" of your devices on Yeelight App;
(open the light setting panel and refer to the last button to open the 'LAN control", as the pic in the following shows)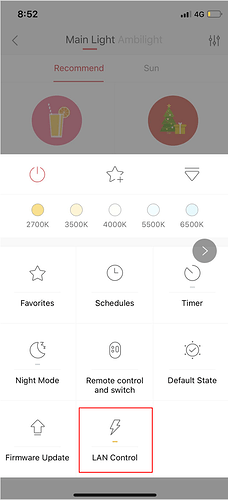 Step 2: Sync Yeelight devices with Google Home App or simply say "Sync my devices" to Google Home Speaker;
Then Google Home will enable Local Execuation and build up local path when possible.
During your experience with Google Local Home SDK feature on Yeelight products, all the comments and suggestion are more than welcome! Feel free to share your experience and comments under this post! Our engineer team are ready to help for trouble shooting. We are also happy to pass your comments to Google team for a better user experience!
Hope you all enjoy the Local Home SDK speed! Cheers.