Hello Yeelight Fans and well Yeelight Staff!
I am a bit confused with the Android app. I have set Mi Home to Mainland China (since I have smart home items not supported on the "global" servers, same with Yeelight.
I can add easy stuff like turn on/off, but I am trying to make it so it will change to a specific color on double press.
I have seen something about "Smart Scene" Activate flow mode via Xiaomi Wireless Switch?
but I don't have such menu's at all… anyone owned the Xiaomi Smart Home Kit and used the Wireless buttons? I just got 3 buttons, was hoping to replace the need of pressing multiple yeelights/using phone.
Option wise I assume it has to be "Turn on and set light" but it only gives me options from "Recommend" and "Favorites" and it doesn't seem to give me any user define settings. Favorites is empty too.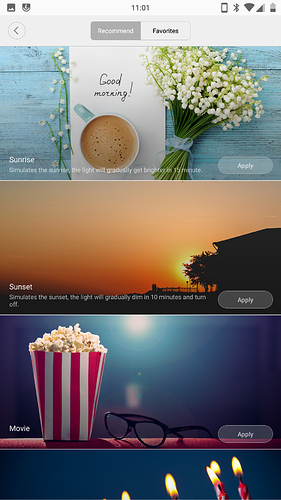 Same issue with motion sensor, was thinking of making lights turn on for 10 seconds as I go to the bathroom at night. xD