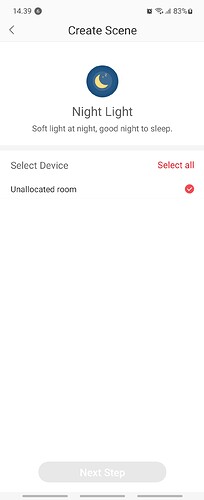 Hi can somebody help me - everything went well with connecting the mesh bulbs to the gateway, but I still have problems making a scene in the Yeelight app. I bought the bulbs to be able to make a fake "sunrise" in the morning, when I have to wake up. I guess that's what the "scene" function is for right?
When I try to make a scene, I have to "choose" a room and even though I made a room, it doesn't show. The only room showing is "unallocated room", but when I click on that the "next" button is greyed out, so I can't choose it (see the attached photo). What do I do now? I just want to make a timer so that the fake sunrise will start in the morning before my alarm clock goes off. That's all….
Don't you have some guiding videos or something like that? The app is very difficult to understand, and there so no guidance what so ever…. Disappointing.
Best regards
Pernille