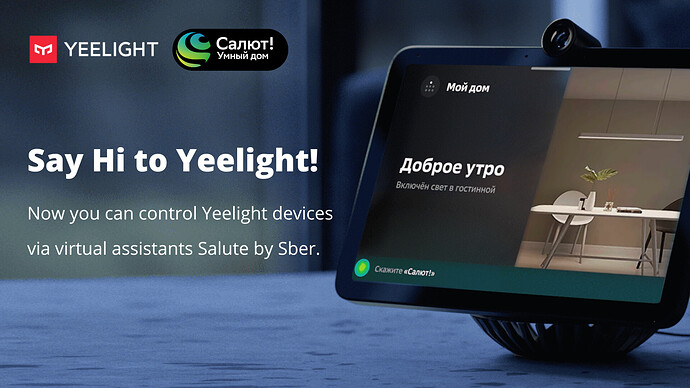 Yeelight users can now connect their smart devices to the Sber smart home platform and control them by voice through the virtual assistants Salute.
Yeelight is one of the leading brands in the smart lighting field. And now users can control all the smart gadgets from Yeelight at ease – not only via Sber assistants from your smartphone but also on Sber smart devices such as SberBox TV-media console, SberBox Time multimedia speaker, SberBox Top media center with a smart camera, SberPortal smart display, as well as TV sets controlled by Sber TV.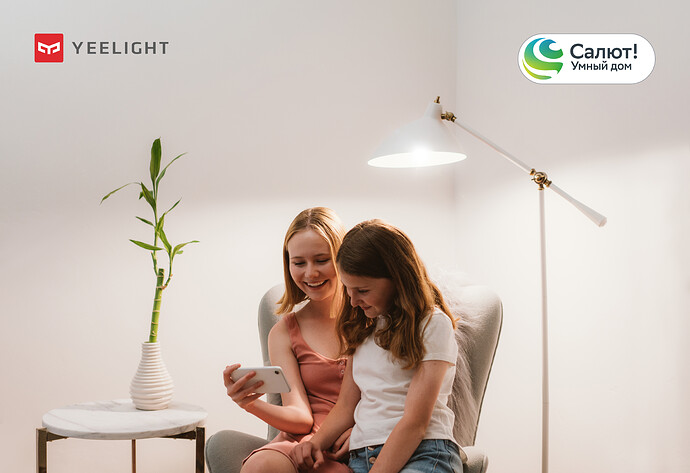 Salute assistants support voice commands to control Yeelight devices through the application. You can also add the Yeelight devices to automation scenarios, synchronize them with other gadgets, or set up your own work schedules. At the same time, lighting control through Yeelight's proprietary application will remain available.
To synchronize Yeelight smart lights with the Sber smart home platform, simply select the third-party connectivity option in the Salute APP. Each smart home device can be assigned a name for easy voice control.
Yeelight smart lights have lots of features to discover or play with. You can adjust the brightness and color temperature using the Salute APP - even set it on schedule. For example, the warm muted light of the Arwen ceiling light will create a romantic atmosphere while watching movies. But bright cool light from 6 to 8 p.m. will help maintain concentration while your child is in the room doing homework.
The user can also customize their own scenes and make multiple devices work as a whole - either changing the light color or switching on and off the devices all at the same time. For example, with the phrase "Cалют, it's evening", with your preset scene, the Yeelight smart desk lamp D2 will switch to the warm light, meantime the Yeelight LED Ceiling Light will go off, and the Yeelight Smart Electric Curtain Motor will operate to close your curtain.
In addition to classic smart bulbs with E27 and GU10 sockets, table and ceiling lights, with the help of Salute virtual assistants you can control Yeelight LED light panels and Yeelight monitor light bar pro - RGB lighting for gamers and recessed spotlights that will make every corner of your smart home brighter and more atmospheric.
To learn more about the Salute family of virtual assistants by Sber, visit https://en.yeelight.com/. Learn more about the Sber family of virtual assistants from Sber at https://Salute.sber.ru/, and see which Yeelight devices can be built into Sber smart home scenarios in the catalog at https://sberdevices.ru/help/smarthome/third-party-devices/ and Салют, Yeelight – управляйте продуктами Yeelight c помощью Сбера.