Hey guys,
We have exciting news to share! We are about to release our latest desktop APP - Yeelight Station! It is designed to realize integrated lighting controls and cool color plays over the desktop. By accessing this software, Yeelight RGB products can achieve a series of exciting features, such as Color Play, Music Flow, Customized Scenes, and Game Sync functions! (*This APP is applicable to Windows 8 system and above.)
Now Yeelight Station is open for Beta Test. If you're interested in joining our Beta Test please kindly click here and enter our 1-min quick questionnaire. We'll invite you to join our private Beta Test group via email after that. Also, upon completing the questionnaire you'll enter the chance to win a $139.99 Yeelight Monitor Light Bar Pro!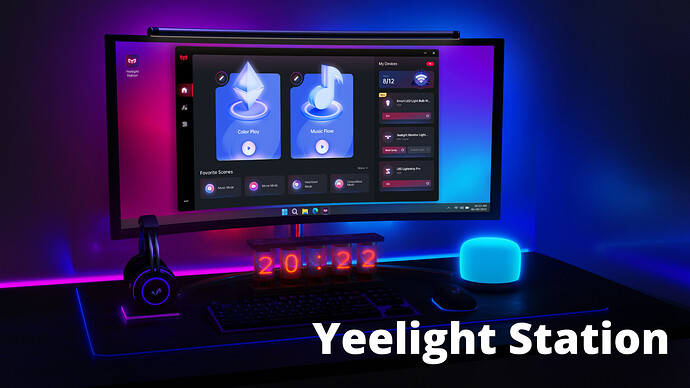 Yeelight Station supports all Yeelight RGB products to work as a whole, to sync with your screen display, to change with the rhythms, as well as to shine with your games. Additionally, you can switch your lighting setups with one click with customized scenes!
Watch demo videos from Yeelight users to learn more about Yeelight Station features here!
Feel intrigued? Click here to complete 1-min questionnaire and join our Beta Test.
We sincerely invite you to share your user experience in Yeelight's exclusive Beta Test groups! Our software engineers await your feedback there.
Look forward to your feedback!
Yeelight Staff