Amazon just officially released Alexa in Brazil, but there's no Yeelight skills available yet.
Any news on the that?
Thanks!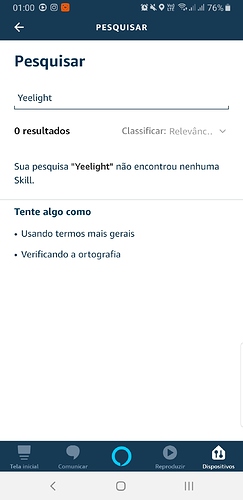 Same here! No Yeelight Skill for Alexa in Brasil. But I've noticed that at Amazon.com (USA) it do exists! Wish means it's relative ease to make some adjustments for this Skill to work here.
Hope they get it done fast because I have a couple those of Yeelight Color Bulbs.
Thanks.
I have one V1 bulb that has been found here with the MiHome skill, but all my new versions of the Yeelight bulbs are missing.

On the Amazon page for the Yeelight Alexa Skills, Brazilian Portuguese is not listed yet.
Hope it gets implemented quickly…
"Supported Languages
English (AU), English (CA), English (GB), English (IN), English (US), French (FR), German (DE), Italian (IT), Spanish (ES)"

I just got an echo dot 3, but no yeelight v2 skill to make them work togheter… Hope yeelight solves the issue quickly

Lots of people in Brazil are having this issue, and we don't have the yeelight skill available in Portuguese-BR, at the alexa brazilian skill store. Could you please release the skill in the Brazilian skill store? Are there any plans on doing this? Using the mihome skill is not possible.
I have 6 Yeelight bulb v2 and none of them appear in alexa show 5 with mi home skill. Yeelight skill wont apper in search list
We are still working on it. Please stay tuned.
I did the integration of mine Yeelight v2 RGB with Alexa trough Samsung Smart Things app! You don't need to have the hub, just download the app, link your Yeelight account and add the Smart Thins skill on Alexa app. It also works with Logitech Harmony Hub!
Same here, tried to add on Mi Home with different regions and ended up using only Yeelight app or Google Home app. I will try the workaround proposed by @MarcusVR through Samsung Smart Things, but it would be much better to integrate natively.
Any news on this? I can't wait to integrate my yeelight to alexa!
I have the same problem. I hope it will be resolved soon. thank you.
Alexa - yeelight skill - Brazil
News about the development? I use to localize software to some developers translating to Brazilian Portuguese, maybe I may help - without charge! If you're interested just contact me through the registered email.
Thanks for you help. We gonna make it working in Brazilian ASAP. I will contact you later. Many thanks.
Ola a todos. Eu fiz a Yeelight funcionar com minha Alexa em portugues. Vou deixar aqui em baixo o que eu tive que fazer para que ela funcionasse:
1 - Instalar e configurar a lampada com o aplicativo Yeelight.
2 - Instalar e configurar o aplicativo SmartThings.
3 - Vincular sua conta Yeelight com o SmartThings.
4 - Ir na Alexa, baixar a Skill do SmartThings e utilizar a lampada a partir dele

Aqui consigo ligar, desligar, mudar as cores, tudo perfeitamente.
Abraço.