Hello.
I just moved into the new flat and I would love to setup my own Yeelight home. I've did some research so maybe instead of full help - I just need some clarification. Basically, All I need are the answers to the questions you could find at the end of this post. Thanks in advance!
So basically… This is my flat with planned device setup.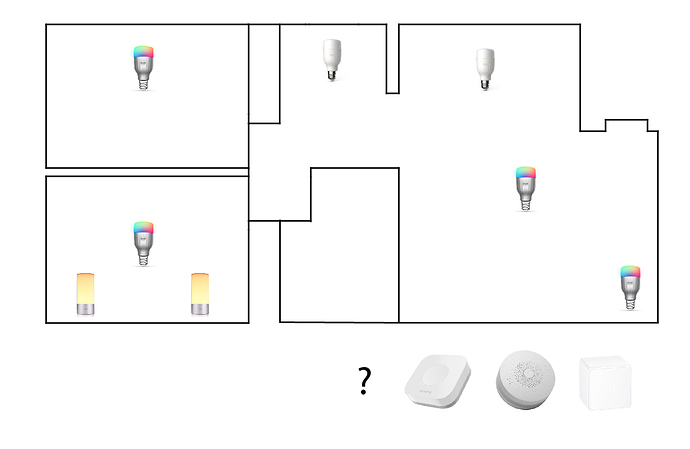 4 Color Bulbs
2 White Bulbs
2 Bed Lights
I live in Poland (if that matters)
All of the bulbs will be plugged into classic lamps.
The questions ( I know its a lot, Sorry

)
Can I normally turn the bulb on and off by classic switch connected to the lamp?
1a. If yes, then what color will the bulb have after turning it on again with classic power switch? The last one or default one?
Does that kind of usage do any harm to the bulb?

Can I (or even should I) get rid of all classic power switches and use Aqara switches, one per each bulb (basically replace classic power switch with Aqara switch).

What is the difference between all that Aqara Switches? Which ones do I need (if the condition is - the cheapest to make it work which means - turn it on and off like classic power switch but still be able to turn it on from different sources like app or gateway)?

I understand that I will need a Gateway to control all that switches paired with separate bulbs?

Is Magic Cube really useful as a remote control or its better to use Phone app?

Am I going to be able to control ALL the lights that you can see on the picture with one app?
Thanks for all the answers. I hope that you guys will help me make my home a little bit more geeky place