Will it be supported that we can activate scenes in Google Home Newly Deployed Routines?
What do you mean "Newly Deployed Routines". If you create a new "Scene" from Yeelight application, you can get it from Goole Home.
You definitely didnt check google home app, the scenes created from yeelight app are working fine in Home Control section of Google Home app but lately, Google has just deployed a new section called Routines, in which you can create multiple commands when saying, for ex: When you say I'm home, you appointed yeelights will turn on and the Goolge Home play music…but Routines now only see Yeelights but not scenes.
Hope you get me or I will take a screenshot.
I don't see Routines in Google Home app, but I see it in Alexa. So could you post a screenshot?
Here's the Routines Section.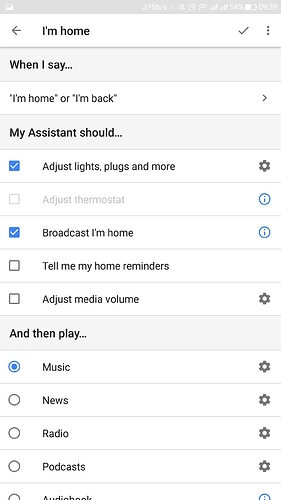 When you enter the Routines, you can set up some of it as of this screenshot that when I say "I'm home", it will adjust lights, play music, ect…
But I can only turn on/off devices/lights, I can't see scenes I've created in Yeelight App.
Why I need that? Clearly that I need to activate scenes instead of just turning on/off lights.
I can use IFTTT but only for one action.
I can use Stringify but it doesn't support Yeelights.